Details
All events and music must end by 12:00am.
This is a non-smoking building.
Lessee is responsible for any and all damages.
One security guard must be hired to be present during your event.
Our kitchen is not for cooking, but preparation and serving only.
Our fee includes basic chairs and 60 inch round tables that seat 100 people.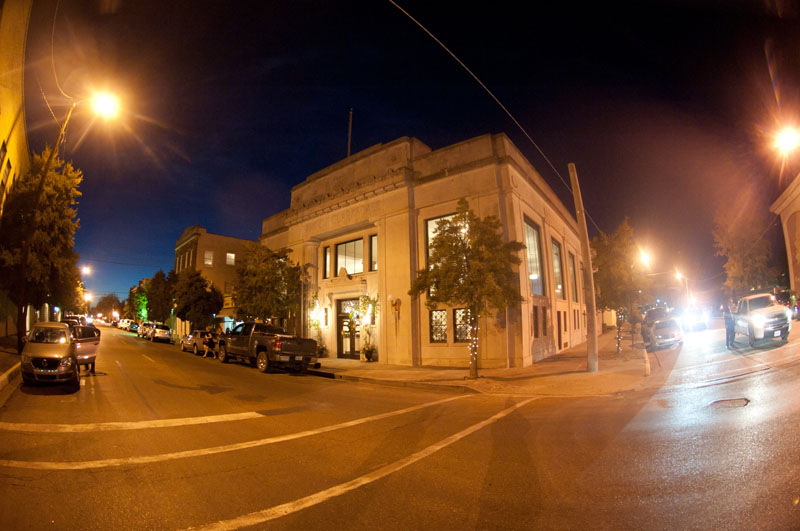 DID YOU KNOW?
The Bank can host groups of 100 -750 people, depending on the event type and set-up. Here are 2 sample event layouts so you can see what the room could look like.
Costs
Rental of the Bank starts at $2,500, which includes the main room, side room and kitchen, plus the use of 100 banquet chairs (cushion back), 12 round tables (60-inch), white chair covers, white tablecloths, 2 rolling bars and clean-up. 
A nonrefundable deposit of $500.00 along with a signed contract is required to reserve the date. The remaining $2,000 can be paid in full or over time. The balance must be paid on or before 90 days prior to the event date. 
FREQUENTLY ASKED QUESTIONS
How do I arrange to see the venue: The venue is shown by appointment, which can be arranged by calling (833) 511-3111 or email us.
How can I reserve the venue: A signed contract and deposit will reserve the space for your event.
How long can my event last at the venue: Rental time is based on 8 hours, which is inclusive of load-in and load-out. Additional time, if needed or requested, is subject to additional fees. It is understood that your event may be shorter than 8 hours. Events must end by 12:00 am.
What about payments: Rental of The Bank event space starts at $2,500. A signed contract and nonrefundable date-hold deposit in the amount of $500.00 must be received to reserve your dates and time. The balance of your space rental fee is due on or before 90 days prior to your event. Miscellaneous costs, such as additional equipment, furniture, and linen rental are due 10 days prior to your event. No refunds of the space rental fees will be paid 90 days prior to an event, as your agreement to rent The Bank on this date may cause the loss of additional bookings or business. 
Is there a cleaning fee: There is a $250 cleaning and set-up fee included in rental cost. Our staff will set up the tables with tablecloths, chairs with covers, and buffet tables. Any changes to initial set up will be done by customer.
What about parking: There is ample free street parking in the downtown area surrounding the venue.
Do you allow outside caterers: Yes. You may use whomever you wish. Our on-site catering kitchen — which consists of prep space, three-compartment sink, hand washing sink and refrigeration — is for preparation and serving only, not cooking. 
What is the smoking policy: Our venue is a non-smoking venue. You may smoke outside the building, but please dispose of your cigarette and/or cigar butts responsibly.
Do you have an open flame policy: Although we prefer flameless candles, we do allow candles in the building. Placement of the traditional candles must be approved by the venue manager to ensure that nothing is placed in a dangerous position relative to anything flammable. If you do decide to use an open flame, all open flames shall be placed in a votive or vase.
Does the venue have table and chairs available- The following items or services shall be included in the rental rate: 
Main Room, Side Room, and Prep Kitchen 
100 Banquet chairs 
12 (60") Round tables 
6 (24") Cocktail tables  
4 (8') Rectangular tables 
2 (6') rectangular tables 
2 Rolling bars
120" Round Tablecloths
90"x132" Rectangular Tablecloths 
90"x156" Rectangular Tablecloths 
108"x108" Tablecloths
White Banquet Chair Covers
Chair Sashes (black, silver, or champagne)
Initial setup 
Full cleaning service following event 
What are the venue's restroom facilities: In the women's restroom, there are three stalls (one handicapped designed) and three sinks. In the men's restroom, there are two stalls (one being a handicapped designed), two urinals and three sinks.
Is there lodging nearby: The Lofts at the Five & Dime and Sunflower Lofts  are conveniently located next to and down the street from The Bank.